This post is a little off-topic, but I think it ultimately relates to film - in terms of curation and one idea that might work for some films. Over the past few weeks, I've been enjoying what is probably one of the best curated shows in New York right now - Josef Albers/Ken Price. The main show is at
Brooke Alexander
in SoHo, Manhattan, and it arguably gets the curation award (photo at left is from their site). In short, the curator Brooke Alexander once heard that the only piece of art that Ken Price kept in his home was a piece by Josef Albers. This led to a wonderful pairing of the works of the two at his gallery and in a stroke of genius, he was able to convince 4 other galleries to display additional works by either Price or Albers at the same time. The pairing is incredible and allows you to think about each artist, their work and art history in ways you hadn't expected before. Roberta Smith,
writing in the NYTimes
, said of the show "As far as I'm concerned this superb show could be maintained in perpetuity, courtesy of the
Dia Art Foundation
or some such. It should be required viewing for anyone hailing from the fraught curatorial profession (and its over soon, so catch it now). Its overarching theme is that abstraction is reality-based, distilled from lived experience, and actualized through highly personal approaches to process and materials. It's a lesson in life as much as art." I think it should be required viewing for any curator, not just fine art curators, and that includes film programmers and curators as well.
As Roberta Smith said in her
fabulous article
, the show "can make you feel as if your eyes were attached to a bigger, more perceptive brain. It brings together the work of two great artists in a way that enables you to see both more clearly." Wouldn't it be great if this happened more often through the curation at film fests and other film exhibitions? I'm not saying that there aren't a lot of great curators of film out there, in fact, I think we have amazing ones at many fests and film centers, so this isn't to disparage the current state of curation, but rather to suggest some new ways of thinking about it. Too often, we get the new film, by itself, or perhaps a retrospective of one filmmaker or a succinct style (all French New Wave, for example). Shorts programs are often thematic, but rarely enable you to see the world (or just the art) more clearly.In retrospect, pairing Albers and Price is brilliant, but it took a great curator to catch a small detail and think of a new pairing to enable us to see the brilliance. The fact that Price had one Albers piece was the punctum (from Barthes, the "prick or sting"of a small detail that gives new meanings to the whole, usually in photography) that allowed the curator to imagine a new way of seeing their work. Such curation adds great value to the work - something we need increasingly with the moving image, as a tide of visual content comes online. Smart curators that follow this example will lead the way as we move forward in digital, visual culture.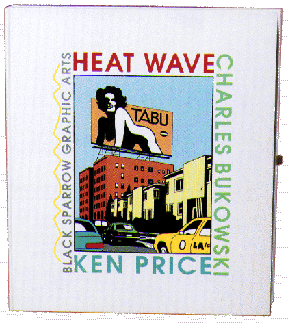 My favorite part of the show was over at the
Franklin Parrasch Gallery
in Midtown (only until April 20) - they have a collection of ephemera, books, postcards, album covers and even tequila bottles designed by or featuring art works by Ken Price. If you like his sculptures (I'm not as big of a fan of these as his other work, though they are what he's most known for), then you must stop by to watch the ten minute video showing his process (layering up paint and then sanding it down to expose layers in patterns). Note to curators - put this video on YouTube once the show is over and his sales will likely triple. Anyway, the piece I most liked, and that I think is in a weird way most relevant to film, was a limited edition hard-bound coffee table book of Charles Bukowski's
Heat Wave
, with drawings and original art work by Ken Price. The cover is the photo I've used here. As
Black Sparrow's website
explains, the book was
a large format (15x12) portfolio, with text by Bukowski (poems), illustrated with 17 black and white works by Price, handbound and including a disc of Bukowski reading his poetry and containing a compartment in the back with 15 original serigraphs which could be removed and framed. A limited, signed edition was made as well as a limited, unsigned edition and the entire thing came in a slipcase with a cool design.
I'm a fan of both Price and Bukowski (yes, I've not left my college reading days too far behind), but you don't have to like either to think about how this could be used for film. Not every film, but some. I've often talked about ways to monetize content in a world where everything is increasingly becoming free - well, here's a great example. I can see Price's works for free, in galleries and online. Bukowski's poems are all over the place, and even with his popularity, I can find them in numerous used bookstores for cheap. But this is a piece of art - when it first came out in 1996 it sold for about $3,500 and I imagine it's worth much more now. I can't afford it, but I bet the 100+ editions they made sold out. How can filmmakers duplicate this? Again, not everyone can, but I imagine there are fans who would buy something similar from many indie films. Perhaps stills from the film, coupled with the script, a DVD, etc. Or maybe the film, the soundtrack and text from an author that is in a similar vein as the subject of the film. I've got lots of ideas for this, and I'm helping a few filmmakers whose films could definitely be re-purposed this way, but thought I'd share the idea with all of you, perhaps you can come up with an even better way to copy the idea in your work.